Goran Končar and Bruno Vlahek
One of the most often asked questions in music is: did interpreters influence the creative processes of music creation, how did they do it, and how were composers encouraged to explore the interpretational capabilities of their muses
Varied and outside the usual boundaries, it is a program that accepts the differences of composers and interpreters and transforms them into a unique artistic experience.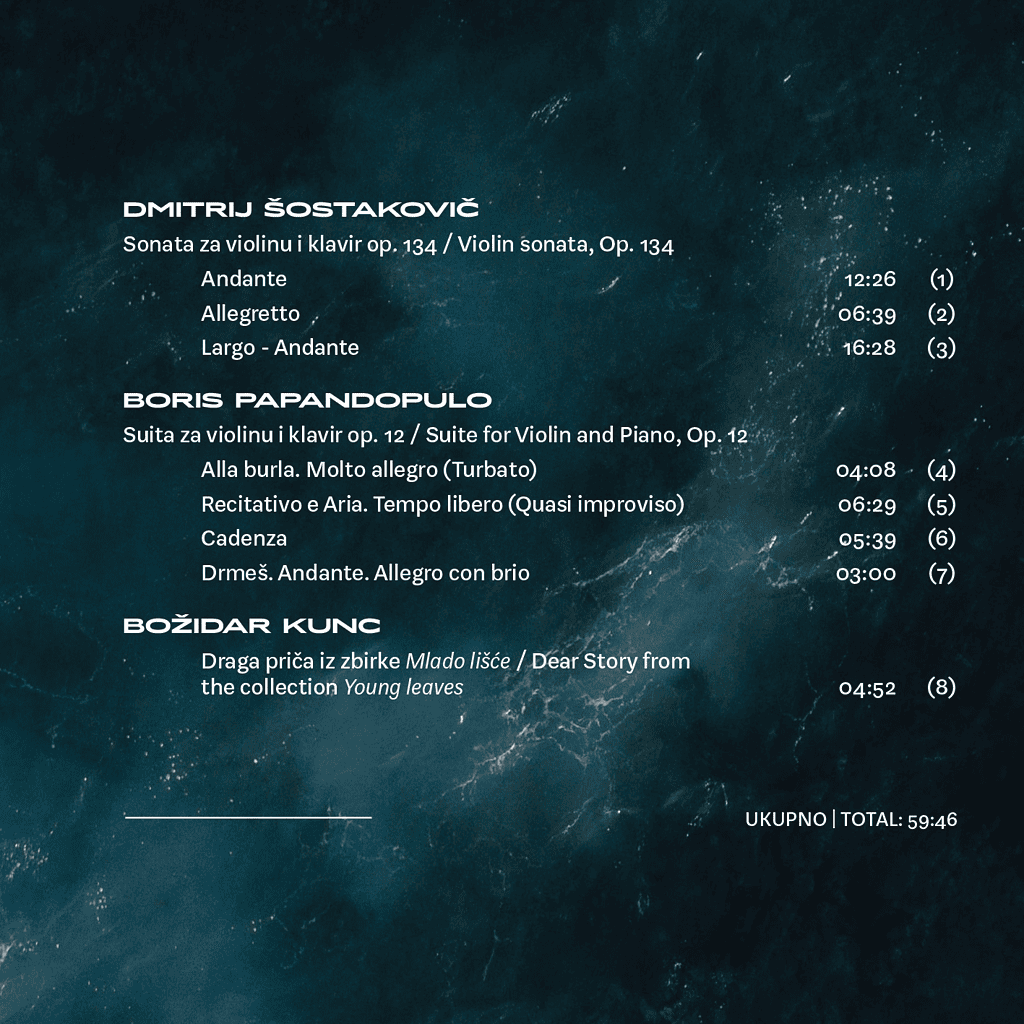 Violin sonata by Dmitrij Shostakovich (1906 – 1975) is one of the most complex works in the composers' later repertoire, very elaborate and extremely technically demanding, encouraged by the virtuosity and musicality as well as the incredible softness and melodicity of David Oistrakh's tone, to whom the piece was dedicated. Shostakovich wrote the Second violin concert for Oistrakh in 1967 for his sixtieth birthday; however, it was a year too early. To correct his mistake, he wrote the Sonata for him in 1968.
The Sonata is an expression of Shostakovich's interests, his life inspirations as well as the dark, turbulent times he lived and created in. The influence of Bach's fugues can be felt from the beginning of the sonata, and it ends in the dancing rhythm of the passacaglia and chaconne, while at the same time experimenting with dodecaphonic sequences (perhaps better said to be playing with them), creating completely new music images. In the second movementment the influence of klezmer music that slowly turns into a frenetic danse macabre can be felt, and in the last movement, with a series of variations in the form of passacaglia and the intertwinement of the pizzicato violin and the empty harmonies of the piano, the tension ends with a short coda, morendo.
Boris Papandopulo (1906 – 1991) composed his Suite for the violin and piano Op. 12 in 1929 and dedicated it to Vaclav Huml, a violinist and music pedagogue, the originator of the Za- greb violinist school and the founder of the longest-lived Croatian ensemble, the Zagreb String Quartet. Although it is a work of youth, the composer's self-consciousness, shrouded in a veil of cheerful, lovable themes inspired by Croatian folklore, is clearly expressed, as well as the extremely demanding virtuoso violin passages and musical melodies with clear sources in the human voice.
Dear Story by Božidar Kunc (1903 – 1964) belongs to the piano cycle Young leaves Op. 20, created in 1933. The miniatures represent the childhood memories which he dedicated to his mother. The seven compositions (That is how it used to be, Young joy, Dance in the forest, Dreaming of happiness, After school, Dear story and Small army) require a mature artistic interpretation for performing. Encouraged by the musical richness of the miniature and wishing to bring it closer to his violin students, Vaclav Huml adjusted it for the violin and piano.
It is interesting that the first performance of Božidar Kunc's music in Split was prepared by Boris Papandopulo on December 21st, 1935 at a school concert Evening of our music. There, under the direction of Boris Papandopulo, the piano miniature Small army from the Young leaves cycle as well as the choir miniature Turek from the Ciciban cycle were performed. The very next year Kunc added Papandopulo's Contradanza Op. 21 to his first solo program in Split on December 3rd, 1936, alongside his recently finished Sonata No. 2 in E-flat major.
Goran Končar (b. 1954), one of the most prominent Croatian violinists, studied at the Music Academy in Zagreb with Martin Barić and Josip Klima and obtained a master's degree in the class of Leonid Kogan at the Tchaikovsky Conservatory in Moscow in 1978. He also studied with Max Rostal in Bern and Henryk Szeryng in Geneva, then with Yfrah Neaman in London. He was Neaman's assistant at the Guildhall School of Music from 1981 to 1983. He has been teaching at the Zagreb Music Academy since 1988 and has held master classes in Madrid, Berlin, Turin, Milan, Sidney, Tokyo, Beijing, Stellenbosch and elsewhere. In 2004, he started the LAUS Summer Academy in Dubrovnik together with the world's greatest violinists (Zakhar Bron, Viktor Tretyakov, Dmitry Sitkovetsky, Leonid Sorokow).
His international solo career began in 1982 with guest performances in the majority of European countries, as well as the USA, Japan, Korea and Israel. From 1984 to 1994 he was the concertmaster of the Royal Philharmonic Orchestra in London, the Croatian Radio Television Symphonic Orchestra and Zagreb Philharmonic. He has performed with renowned orchestras and conductors all over the world.
He won first and special prizes at national competitions, as well as the Music Life Award in Moscow (1980) for his performance of Shostakovich's Concerto for violin and orchestra, the first prize at the International Competition in Bratislava (1984) and numerous other accolades. Among the awards received the Vladimir Nazor Award (2006) holds a prominent place. In 1974, Goran Končar received the Vjesnik Award for the performance of the First and Second Violin Sonatas by Bruno Bjelinski with the pianist Mira Flies.
In his solo and educational activities he is particularly dedicated to interpretations of works by Johann Sebastian Bach (solo sonatas and partitas), as well as to the repertoire created with Max Rostal (W. A. Mozart and the French Bruch, E. Bloch, F. Mendelssohn), Yfrah Neaman (J. S. Bach, M. Bruch, E. Bloch, F. Mendelssohn) and Leonid Kogan (Russian literature-P. I. Tchaikovsky, A. Glazunov, A. Khachaturian, S. Prokofiev and D. Shostakovich, the performance of whose works he was the first foreigner to receive a Russian award for). He pays special attention to the performances of the classics of the 20th century (B. Bartok, B. Martin, S. Gubaidulin, A. Nilsson, K. Goldmark) and contemporary pieces, which is why numerous composers have dedicated their works to him (Boris Papandopulo, Milko Kelemen, Giuseppe Gavazza, D. Holloway, Ivo Malec, Anđelko Klobučar, Stjepan Šulek).
His first record was released by EMI in 1984 in London, and he also recorded for the BBC, CBS, France Musique, HRT and other radio and TV stations. Croatia Records released one of the rare integral performances of Eugène Ysaÿe's violin sonatas.
From 1987 to 2012 he managed the Zagreb Quartet and for a full quarter of a century his skill and art were part of this oldest Croatian and European chamber ensemble.
The Zagreb Quartet was established as far back as 1919, and for a period of one century it was the basis of the tradition of chamber music making in Croatia; in this tradition Goran Končar is certainly one of its pivotal personalities. During this period he appeared in more than 2000 concerts, and under his guidance the Zagreb Quartet had more than 1000 performances, appearing on all continents in the best known concert halls of the world, and cooperated with a large number of Croatian and foreign soloists. Končar also played the majority of first performances of works composed by Croatian composers written for the string quartet and he also published 15 albums. Under Končar's guidance the Zagreb Quartet performed all quartets composed by Shostakovich, Mozart, Prokofiev, Janáček, the majority of Haydn's quartets and all quintets.
Professionally, he is dedicated to studying the sound of historical instruments and raising awareness of the value of tonal wood from Croatia and Bosnia that was used to make the most valuable instruments. In order to promote Croatian makers of string instruments, in 2005 he initiated the founding of the Croatian Association of Professional Makers and Restorers of String Instruments.
For a number of years he played on Giovanni Battista Guadagninis' violin which the Croatian violinist and composer Stjepan Šulek left to the Stjepan Šulek Foundation as well as on the violin King by Giuseppe Guarneri del Gesù from 1735 that is in possession of the Croatian Academy of Sciences and Arts (HAZU). Thanks to the long-term cooperation with the Japanese builder and restorer of string instruments Muneyuki Nakazawa, he made 35 guest appearances in Japan and played instruments from the Nippon Violin Tokyo Collection. This program was recorded on a J. B. Vuillaume violin from 1830 from that collecton.
Bruno Vlahek (Zagreb, 1986) is one of the most prominent and versatile musicians of his generation, being praised by the critics for his fantastic virtuosity and depth of musical thought that bewitches the audience. He regularly appears as a recitalist and soloist with orchestras in Europe, Asia, Africa, North and South America, Russia and Middle East – in venues such as Palau de la Música Catalana in Barcelona, Auditorio Nacional de Música in Madrid, Franz Liszt Academy in Budapest, Mozarteum Salzburg, Dubai Opera, St. Martin-in-the-Fields in London, Moscow's Kremlin, Tel Aviv Museum of Art, Shanghai Concert Hall or Seoul Arts Centre, as well as at the festivals of Dubrovnik, Bolzano, Moscow, Vienna, Palma de Mallorca, Dar-es-Salaam or Verbier. He toured China several times and is a regular guest to some of the country's finest venues.
After having graduated as one of the youngest students in history of the Zagreb Music Academy with Vladimir Krpan, he obtained a soloist diploma at the Haute École de Musique in Lausanne with Jean-François Antonioli and received his master's degree with Vassily Lobanov at the Hochschule für Musik in Cologne, where he also studied composition and improvisation. Afterwards he studied with legendary pianist and pedagogue Dmitri Bashkirov at the Queen Sofía College of Music in Madrid. Bruno Vlahek is winner of highest prizes of many prestigious piano competitions, such as those of Paris, Shanghai or Lyon. In his native country he received a title of the Young Musician of The Year awarded by the Zagreb Philharmonic Orchestra and subsequently received the Swiss prize Paderewski, Yamaha Music Foundation of Europe's Award, Pnina Salzman Memorial Award in Israel and Arists on Globe Award.
At the same time, as a composer, he was awarded first prize at the International Composition Competitions Cristóbal Halffter in Spain, and won the discographic award Porin as well as the Stjepan Šulek Award for the best composition of the year 2019, among others. In 2021 he became laureate at the New Classics – Organ Taurida competition held in the Great Hall of the P. I. Tchaikovsky Conservatory in Moscow. For his achievements he was awarded by the Honorary Diploma from the hands of Her Majesty Queen Sofia of Spain. His performances were broadcasted on TV and radio stations such as France Musique, BBC 3, Dutch NPO Radio 4, Spanish RTVE and Catalunya Ràdio, Australian ABC Radio or Radio Suisse Romande, for which he recorded Saint-Saëns' 2nd Piano Concerto with Orchestre de Chambre de Lausanne.
In 2020 he published three critically acclaimed solo discs: Touches dedicated to piano solo works by L. Bernstein, G. Ligeti and I. Stravinsky (Croatia Records), complete Etudes-tableaux by S. Rachmaninov (PlayClassics) and selection of Scarlatti's Keyboard Sonatas (Naxos).
He performs with great success with his wife Dubravka Vukalović as D&B Piano Duo, with whom he became a prizewinner of the International Piano Duo Competitions in Monte-Carlo and London. He is also active as a concert organist and has written numerous orchestral, chamber, solo and choral works of various genres which have been performed on five continents in cities such as New York, Chicago, London, Berlin, Amsterdam, Cambridge, Lisbon, Prague, Salzburg, Moscow, St. Petersburg, Seoul, Singapore and Sydney. His works are published in Croatia, Russia, the United Kingdom and the USA.