Rarely can we say that a name defines a person more accurately than is the case with Ivan Vihor (Whirlwind). His entry into the music scene was fast, passionate, powerful and left a mark just like a whirlwind!
Although very young, he has set clear goals for himself which he now systematically achieves, primarily excellence and originality in the selected and presented repertoire, which has a special meaning to him.
Vihor spielt sehr sensibel, ohne Affektiertheit, dafür mit umso mehr Differenzierung und Intelligenz.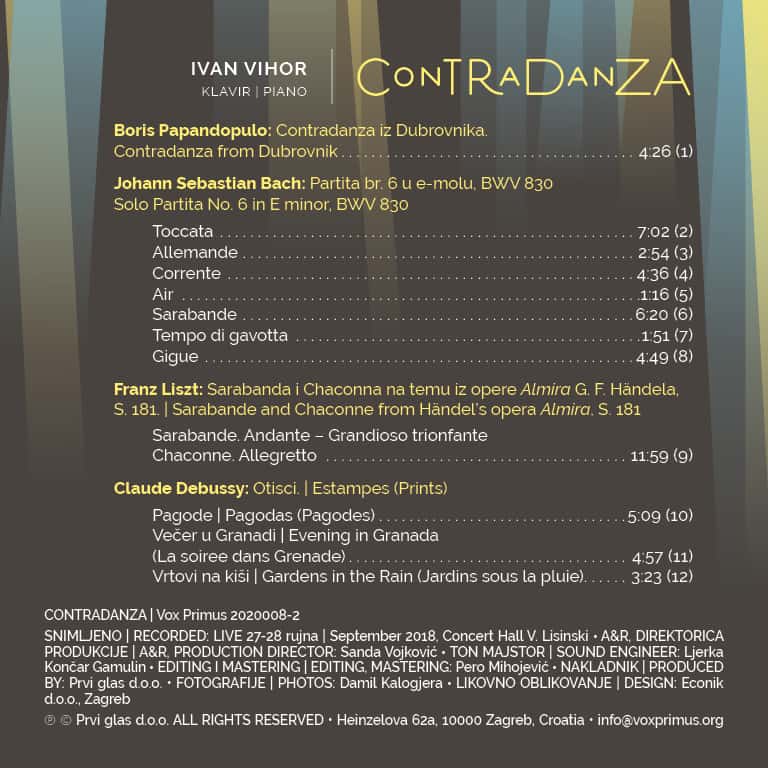 Such is the program selection on this almost dance-focused edition called Contradanza, named after a composition by one of Croatia's greatest composers, Boris Papandopoulo, inspired by a traditional folk dance from the Dubrovnik area. Also in dance rhythm is J. S. Bach's crown work Partita no. 6 in E minor as well as Sarabande and Chaconne by Franz Liszt, a composer for whom Vihor has a special affection for. The program is concluded with Claude Debussy's Prints, which give Vihor the best opportunity to present his rich talent and superb interpretation while leaving his footprint in the music of our time.
Vihor about Contradanzi...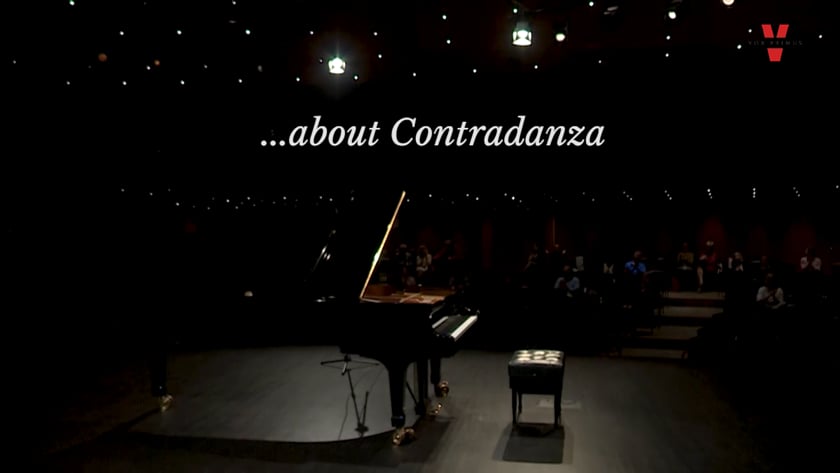 Pianist IVAN VIHOR KRSNIK ČOHAR made his debut with the orchestra at the age of 10, performing Bach's Concerto in F minor, BWV 1056 with the Sinfonica del Festival di Chioggia orchestra under the direction of Pietro Perini. Praised as a child prodigy and enviable virtuoso, he soon began performing at solo concerts and recitals.
He was born in 1997 in Rijeka where he started his music education at the age of 6, in the class of prof. Ana Dražul. He graduated with the highest marks and after that, at the age of 16, enrolled in piano studies at the Conservatory of Gaetano Donizetti in Bergamo, Italy, in the class of prof. Marco Giovanetti, where he graduated from with the highest Cum Laude grades. He also completed his studies at Accademia di Musica Pinerolo, in the class of prof. Enrico Pace and at the Musicale Santa Cecilia Bergamo Academy with prof. Konstantin Bogino. He is finishing his master's degree in the class of prof. Marco Giovanetti at the Bergamo Conservatory. Since the spring of 2019, Ivan Vihor has been teaching as a professor at the Gaetano Donizetti Conservatory in Bergamo. He is currently studying a high master course at the Piano Academy Incontri col Maestro in Imola with Roberto Giordano and Enrico Pace.
Ivan Vihor attracted the attention of the general public in 2017 at the age of 20, when he won the most prestigious Italian competition in Pesaro – Premio Delle Arti (as the only non-Italian pianist ever). In the same year he was proclaimed the best young musician of Croatia, winning the National Competition Papandopulo and in the same week Ferdo Livadić International Competition.
Those successes were followed by invitations to perform at a number of prestigious music festivals such as Osor Musical Evenings, Samobor Festival, St. Marcus Festival, Spoleto Festival, Onde musicali Iseo, Festival pianistico Brescia e Bergamo, Concerts du Cloitre Nice, Shandelee Music Festival and Monferrato Classic Festival. Since then, Ivan Vihor has performed in many countries including Croatia, Slovenia, Austria, Italy, France, Germany, Liechtenstein, the Netherlands and the USA under the button of world-renowned conductors such as U. Lajovic, P. Perini, A. Ceccato, B. Šipuš, M. Tarbuk and others.
In 2018 he was the laureate of the Svetislav Stančić International Piano Competition in Zagreb, the Massarosa Piano Competition in Italy and the Lazar Berman International Piano Competition in Aversa, Italy.
In 2019 he obtained a prestigious prize Young talent of the year given by UBI Banca and Festival pianistico Brescia e Bergamo and 2020. Award Mo. Ivo Dražinić for the best young musician awarded by the Dubrovnik Symphony Orchestra and LAUS Academy.
He is one of the semifinalists of the 12th Franz Liszt international piano competition in Utrecht. In 2021 performed in the Monte Carlo Opera as one of the eleven best pianists at the Monte Carlo Piano Masters.
He recorded a CD for the music label MC Harmony (Schumann, Beethoven, Liszt, 2015) and for the music label Vox Primus CD Contradanza (Papandopulo, Bach, Liszt, Debussy, 2020). His third CD Liszt – Transcriptions was released under the label Vox Primus (Bach / Liszt, Beethoven / Liszt, Liszt).